Jr. Great Books
At HTES we have initiated Jr. Great Books groups at every grade-level to ensure challenging reading groups for students reading significantly above grade level.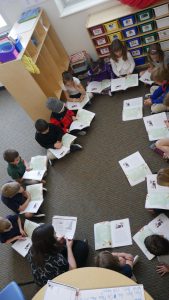 How are students placed in Jr. Great Books groups?
Students are place in Jr. Great Books groups at HTES using the following criteria:
What is Jr. Great Books?
Jr. Great books provide a rich set of reading instruction materials that ensure critical thinking, text complexity, close reading, collaborative discussion, writing, assessment, and more. Independent research studies show that our inquiry-based approach to teaching and learning improves students' comprehension, metacognition, critical thinking, writing, self-esteem, and enjoyment of literature and learning.