Fall Registration
Back to School Registration

We wanted to make sure you have our Back-to-School Registration in your calendars. Students are not placed on a class list and cannot start school in the fall until they are officially registered through our DPS process.
Registration Information
Registration will be at High Tech Elementary on the following dates:
Tuesday, August 8, 2017 from 9 am -3 pm
Wednesday, August 9, 2017 from 1 pm – 7 pm.
To save time, families with a DPS Parent Portal account can complete verification online prior to registration. https://myportal.dpsk12.org/Pages/Default.aspx
Online Student Verification – July 20-Aug. 11 at 5 p.m. Save time during school registration by updating your student's information online this summer, before registration begins in the fall. The window for online verification is July 20-Aug. 11 at 5 p.m. As you know, all information for current students must be verified with DPS every year. By completing this process online, you avoid paper forms and decrease the time you spend at the school, and in line, during registration.
Online verification is done through a DPS Parent Portal account – click here to sign up, or to check that your account is active and ready. For more information about how to complete online verification, click here.
Please bring the following documentation with you to registration:
(We understand that you may have already submitted the information for the School of Choice application process; however, we will need to have a copy in our office of all documentation for the verification process).
Proof of Address – i.e. Xcel bill, water bill, signed lease, mortgage statement
Birth Certificate or Passport
ECE ONLY: If your child is attending ECE, additional documentation will need to be turned in so your child can attend the first day of school (See Registration page on school website).
School Uniforms: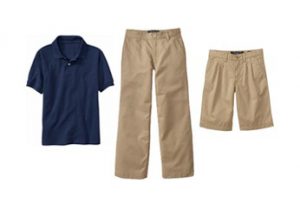 HTES is a school where all students (ECE-5) are required to wear uniforms. The tops need to be solid with no print in the colors of white, grey, navy blue and forest green. The bottoms need to be navy blue, black or khaki (no jeans). SEE EXAMPLES HERE. *Any clothing purchased as a part of the PTA Spirit Wear Initiatives or special HTES events (i.e. Field Day) can be worn any time as a part of the school uniform.
You can purchase uniforms from Walmart, Target, Old Navy or you order your uniforms from our  ONLINE HTES UNIFORM STORE
PTA Uniform Recycling –  Bring your gently used items to registration (8/8 & 8/9) and drop them off at the PTA table. Our Uniform Recycling Committee will be having their BIG SALE at the Welcome Back Picnic (8/13) and they need to re-stock the supply!
School Supplies:
If you have not already ordered an Edukit for your child's classroom supplies for next year, you can get a copy of the list on our HTES website. School supplies can be purchased at the store of your choice. Please plan to bring supplies with you to the "Meet the Teacher Night" on Friday, August 18th from 5-6.  SUPPLY LIST LINK
HTES Calendar Information:
You can download a copy of the official HTES calendar – CLICK HERE
You can also add our HTES GOOGLE Parent Involvement Calendar to get updates on all upcoming events! CLICK HERE
IMPORTANT FALL DATES FOR YOUR CALENDAR:
Registration 
Tuesday, August 8th, 9 am – 3 pm
Wednesday, August 9th, 1 pm – 7 pm
Welcome Back PTA Picnic
Sunday, August 13th, 4 pm – 6 pm
Meet the Teacher Night
Friday, August 18th, 5 pm – 6 pm
First Day of School
Monday, August 21st
Student Testing Days
Thursday, August 24th –
Students whose last name begins with N-Z attend; A-M do not attend
Friday, August 25th –
Students whose last name begins with A-M attend; N-Z do not attend
Parent and Community Volunteer Training Event
Tuesday, August 29th – 5:30-7:00
NO SCHOOL – LABOR DAY
Monday, September 4th
Curriculum Night (Parents ONLY)
Wednesday, September 6th – Primary – ECE-2 – 6:00-7:00
Thursday, September 7th – Intermediate – 3-5 – 6:00-7:00
Required ECE Forms:
English:
CHILD'S STATEMENT OF HEALTH STATUS 17-
FORM-PARENT INFO & PERMISSIONS 17-18
Spanish:
CHILD'S STATEMENT OF HEALTH STATUS 17-18-SP
FORM-PARENT INFO & PERMISSIONS 17-18-SP